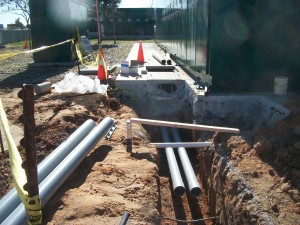 CTE has the capability to perform specialized construction work related to the design, installation, and maintenance of electrical systems. Because we routinely work with street lights, park lights, and other types of electrical projects, we have the equipment, staff, and knowledge to add value to your project.
Whether the project involves high-voltage power, medium-voltage or low-voltage, our services are completed by an experienced team of people who ensure that all systems work in a safe, effective, and environmentally-sound manner.
We are licensed, bonded, and insured to provide service, repair, as well as new construction electrical projects.
Current customers for electrical and lighting maintenance &  upgrades include:
City of San Diego
City of El Cajon – Parks and Rec.
City of Imperial Beach
4S Ranch Parks and Rec.
City of Solana Beach
PetsMart
Petco
The Sports Authority
Marriott
Money Tree
Joanne's Fabrics
Sherwin Williams
Regal Cinemas
Tilly's (retailer)
The Mission (Restaurant group)
URBN, Bar Basic, and Gang Kitchen (Restaurant & Bar group)
Or see our photo gallery of some of our recently completed projects here.