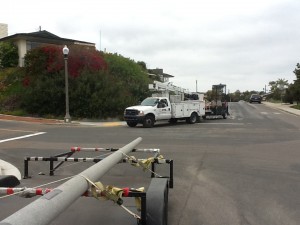 CTE, Inc. is a long-standing commercial electrical company located in San Diego county.  Our services range from contract-based maintenance servicing to project-based electrical installs/retrofits/upgrades/etc.  In addition, CTE services multiple cities and municipalities with utility & electrical installs/upgrades/retrofits/maintenance, as well as underground utility locating and mark-up.  From big to small, our services will be delivered to the same quality and professionalism as it always is.  See our list of references here.
Our Commercial Electrical Services in general include:
Our Street Light servicing.
Electrical systems.
Underground utility & marking services.
Security systems.
Telecom and data systems.
Are you in need of another electrical service not listed here?  Contact Us to discuss your project needs.